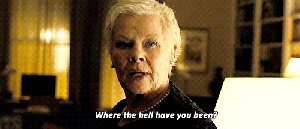 So it's been a while.
I started this blog way back in 2011, primarily because I was starting graduate school, and I wanted to chronicle my exploration of what I was learning and how that affected my beliefs. Somehow, I managed to get up and write several mornings every week – posts that summarized class lectures or textbooks, others that provided more political musings and eventually a few big series that explored topics separate from my education but to which my studies had pointed me.
By happy coincidence, our three children were either too young for school or being homeschooled, so I could write all the way until I had to go to work without much interruption – no lunches to make, hair to brush, teeth to double-check, screaming matches to referee. But as the kids got older, they needed more help in the mornings, and so it became harder and harder to keep this up. I could feel it drifting away, and although I don't recall a specific decision to stop publishing, essentially that's the choice I made.
I wish I'd kept it up.
A lot has happened since 2013, when I last posted regularly – most of it in 2015 and 2016, when I took a new job and moved several hundred miles away, and graduated with my M.A. in modern and American Christianity.
When I was last blogging actively, I hesitated to provide too many details about myself because I worked where I went to school, and I wasn't sure how my employers would react to my ruminations. That was probably an excess of caution, but I worked in the fundraising arm of the university while openly questioning things like the virgin birth. If the wrong donor found the wrong post, it's not hard to see how that could get awkward.
But that's not really a concern anymore. So I don't mind saying now that I earned that degree from Abilene Christian University, a fairly small liberal-arts school in West Texas affiliated with a cappella Churches of Christ.
We moved from Abilene to the Central Texas Hill Country in 2015, and I graduated a year later. Around the same time, we started attending our local Episcopal Church, which we love. How we joined the long line of former evangelicals to become Episcopalians is probably worth its own post.
Not only do I wish I'd kept blogging to better keep track of my thoughts as I wrapped up my degree, which included some work I'm really proud of regarding mid-century Churches of Christ and their responses to evolution and the civil rights movement, but I wrote a lot of words on Facebook about the 2016 election whose reach was necessarily limited to my friends. I'll try to fill in the gaps with some flashback posts.
Finally, I wish I'd kept it up because, let's be honest, this thing was doing pretty well. I'd had some success with Rachel Held Evans and Andrew Sullivan linking to the blog, with Fred Clark throwing some bones. Traffic seemed to be pretty steady, and there was some fairly consistent commentary back and forth from regular visitors. When you stop maintaining a site for five whole years, that pretty much all goes away. It's probably not born from the highest and purest motives, but I hate the idea of starting from scratch.
But here I am, looking at starting over anyway. Why?
Because I need to write. And while I've had some papers published and continue to work on academic publishing and freelance writing, blogging allows almost infinite flexibility in what I choose to say and how I choose to say it.
In this blog's very first post, somehow written almost seven years ago, I said:
Join me, won't you? For perhaps the first time in my life, I can't promise any answers, but I hope we can have some stimulating discussion and share in some amazing revelations as God reveals more and more about his nature to this student.

Let's become disoriented together and see how God reorients our lives.
A new job, a master's degree and hundreds of blog posts later, it's more of a struggle to embrace the humility of that initial post. My brain has always tended toward figuring out and then disseminating the answers. It's the old journalism background, I guess.
But one thing I have learned over the past seven years is that the life of faith is one of constant disorientation and reorientation. So I re-extend the invitation: Join me, won't you? Let's embrace the questions, the doubts, the struggles and see what God turns them into.